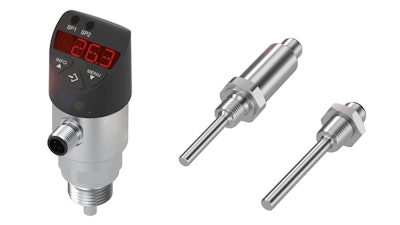 The newest media-contacting temperature sensors from Balluff (Florence, KY) provide continuous monitoring and measuring of process media temperature on machines and equipment. Users can directly control critical process conditions such as a temperature limit via the switching output, which switches when the temperature exceeds the selected setpoint range. An analog output provides continuous measurement results, with a measuring range is –20…+80 °C. They are available with and without a display.
The sensors are ideal for reliably monitoring fluid temperature in hydraulic systems, which helps maintain correct fluid viscosity and contributes greatly to process quality and machine performance. Additionally, the sensors can monitor the cooling water, lubricants or compressed air, making them ideal for a wide range of applications. Key features include:
Measure temperature directly in liquid or gaseous media.
Analog signals and switching point interfaces.
Rugged M12 connector for ease of integration.
Flexible installation and convenient operation in versions with rotatable, easy to read display.
Compact form factor and high vibration resistance in versions without a display.
www.balluff.com; 800-543-8390