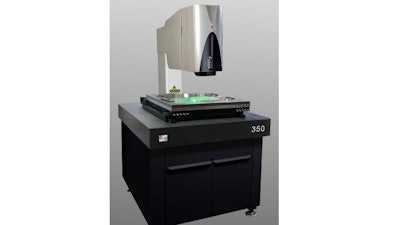 QVI (Quality Vision International; Rochester, NY) introduces its new Fusion 350 large field of view multisensor metrology system. QVI Fusion systems are innovative measurement tools that combine a large field of view (LFOV) optical system with available touch probe, laser, and micro-sensors to produce a family of uniquely productive metrology systems. The new Fusion 350 is designed to characterize large parts or groups of small parts that primarily require two-dimensional measurement. Features include:
A large field optical system, which allows high accuracy imaging of a wide area — up to 100 mm. QVI's exclusive image analysis software tools can instantly process and identify all features and dimensions within the field of view, with no need for a pre-programmed measurement routine.
The capability of high speed measurement of 2D parts. With its large 450 x 450 mm measuring area and flexible dual magnification optics, it can easily accommodate large parts or groups of smaller parts, and measure both large and small feature sizes.
QVI ZONE3 Express CAD-based 3D metrology software. ZONE3 features a clear, simple user interface, and its kinematic model simulates the machine, part, fixtures, and measuring sensors, updated in real time.
www.qvii.com; 585-544-0450