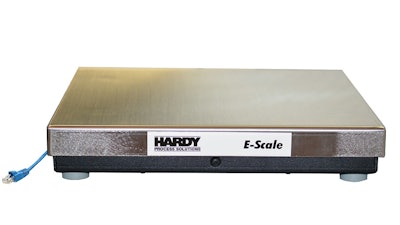 Hardy Process Solutions (San Diego, CA) offers their E-Scale Bench scale series that can connect to Rockwell Automation's Connected Enterprise with an IIoT-ready scale base. Additional features include:
An integrated weight processor for direct connection via EtherNet/IP, Profibus-DP or Modbus protocols.
Applications can include piece count and portion control, minor ingredients, machine filling and dispensing and conveyer weighing.
A built-in interface for direct connection to a PLC, PAC, DCS or PC.
Integrated weight processing and communications.
The ability to power up to 20 scales daisy chained up to 50' without the need for additional power, routers or network switches.
Standard sizes of 12" x 12" and 24" x 24" in capacities from 33 to 1,300 lbs.