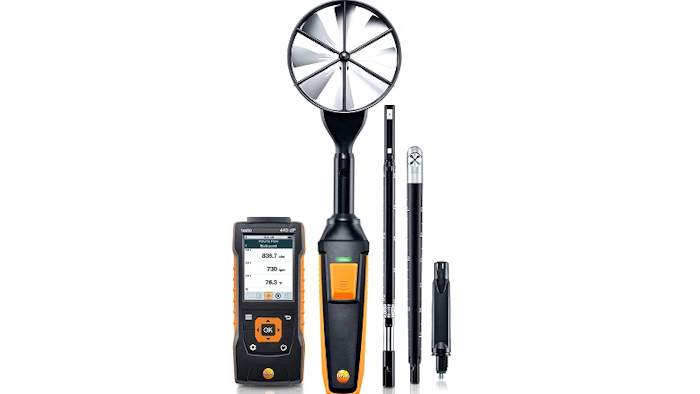 Testo (Sparta, NJ) introduces the testo 440 air velocity & IAQ meter, a tool that combines a compact handheld measuring instrument with user-friendly menus and wireless probes for the versatile and convenient measurement of all air conditioning and ventilation parameters. This innovation combines everything that makes air velocity & IAQ measurement technology so successful -- intuitive operation, precise measurement values and an extensive probe range -- and expands on these advantages using the convenience of wireless connectivity. Benefits include:
More applications with less equipment. The testo 440 probes are available for air velocity, temperature, humidity, turbulence, CO2, CO and light intensity. The wireless Bluetooth probes ensure more freedom of movement while taking measurements and save space in the measurement case.
A large display which shows up to 3 measurement values simultaneously. It also allows easy configuration of the measurements as well as a view of your results at a glance. The instruments memory can record up to 7500 measurement points.
Availability in two versions. There is the standard testo 440 and also the testo 440 dP model which has an additional, integrated differential pressure sensor. This makes measurements at filters as well as Pitot tube and k-factor measurements possible. Pre-configured kits consisting of measuring instruments, probes and accessories are available for the most important areas of application (incl. ducts, vents, indoor air quality and ventilation/air conditioning measurements in laboratories).
www.testo.com; 862-354-5020