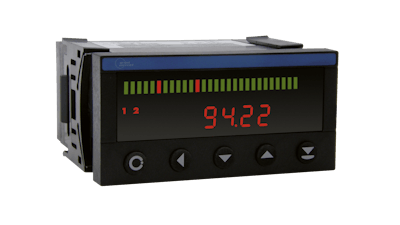 Bristol Instruments
Bristol Instruments (Boston, MA) has introduced the OM 402UNI Series of universal panel meters. The 4-digit instruments come with a five-year warranty and are programmable for mathematical functions, including peak and tare, as well as digital filters. Additional features include:
The ability to be used as voltmeters, ammeters, process monitors, ohmmeters, temperature instruments and display units.
The ability to be configured for 8 different inputs.
Available with 0.8 or 0.5 inch tall 3-color LED displays.
Accuracy to 0.1 % of range.
Up to 4 relay outputs are available and can be turned on or off at preset load values.
Three-way isolation: power supply, input and output.
Programmed for a selection of voltage, current and other input types with dozens of ranges including 0 to 20 mA, 4 to 20 mA, ± 60 mV, ± 10 V, ± 5 V, ± 40 V, ± 500 V, resistance, RTD, thermocouple and linear potentiometer.
Analog outputs are 0 to 2/5/10 V, ±10 V, 0 to 5 mA and 0/4 to 20 mA.
Digital output interfaces include RS 232 and RS485 with MODBUS, PROFIBUS and other protocols.
1/8 DIN size housings.
Bezels sealed to IP 64 against ingress of dust and liquid.
Accepts supplied power between 10 to 30 V AC/DC, 80 to 250 V AC/DC.
For more information, call 877-866-8500; or visit www.bristolinstruments.com/402U.