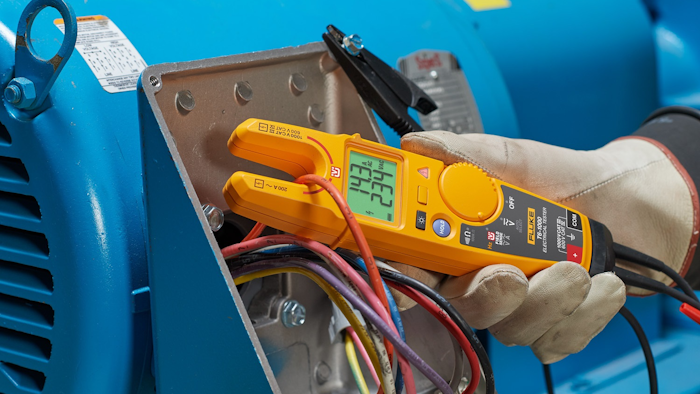 The new T6 Electrical Testers with FieldSense Technology from Fluke (Everett, WA) make troubleshooting electrical systems safer and more efficient by allowing electricians to take simultaneous voltage and current measurements — not just detection — without test leads.  The T6 testers now make it possible to take reliable true-rms measurements in crowded junction boxes or along conductors with inaccessible end points, saving time, minimizing potential errors and greatly reducing the possibility of arc flash. With the Fluke T6-600 and T6-1000 testers, electricians can:
Be safer: Measure voltage up to 1000V and 200A AC through the open fork without test leads or exposed conductors.
Be faster: With no need to open panels or remove wire nuts, electricians can speed through troubleshooting.
Be more efficient: Simultaneously measure and display voltage and current.
Be everywhere: With the widest open fork in the industry, the T6 testers measure 4/0 wires with current up to 200A AC.
The rugged testers are 1000 V CAT III, 600 V CAT IV safety rated (600V CAT III for the T6-600 model) and feature an easy to read display with a backlight.
www.fluke.com/t6; 800-44-FLUKE