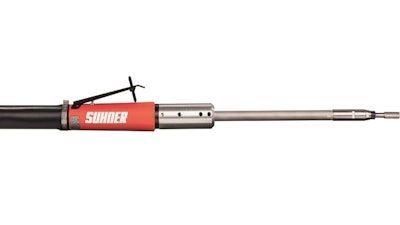 New from Suhner Industrial Products (Rome, GA) is their LRC 20 turbo tool. Features include:
A redesigned pneumatic drive for grinding, milling and polishing in the recesses of workpieces, such as the leading edges and corners of impellers or the insides of narrow pipes.
A diameter of 13 mm and lengths of 125, 250, 500, 1,000 and 1,500 mm.
The ability to reach speeds of 20,000 RPM, but maintaining a noise level of 69.5 dB.
A centrifugal governor regulates the speed in saving an average of 20 percent of the compressed air needed for conventional air tool technologies.
The exhaust air is directed backwards, protecting the work surface from lubricating oil.
Extension elements that can be bent to 45 degrees.