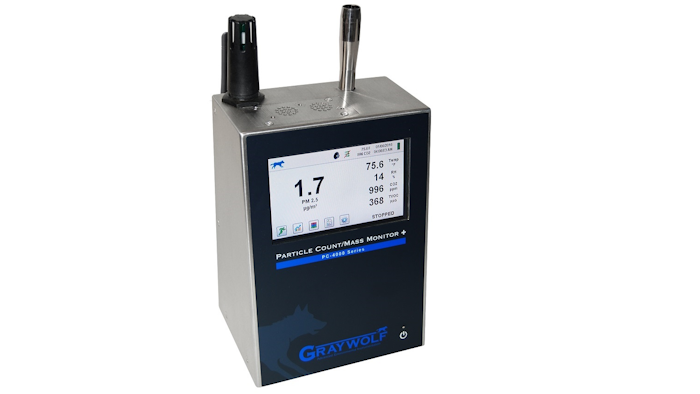 GrayWolf Sensing Solutions
GrayWolf Sensing Solutions (Shelton, CT) has introduced the PC-4005 Particle/Mass Monitor Plus a portable 6-channel particulate meter that optionally incorporates sensors for additional parameters, such as total volatile organic compounds (TVOCs), carbon dioxide (CO2), temperature and relative humidity. The monitor measures particle counts and also displays and logs calculated particle mass concentrations while optionally displaying and logging the aforementioned environmental conditions. Additional features include:
A photo-ionization detector (PID) for TVOC measurement.
A rapid response NDIR CO2 sensor.
The ability to be connected to AdvancedSense, DirectSense or WolfPack instruments to add additional parameter logging into the same data file (e.g. formaldehyde, ozone, carbon monoxide, nitrogen dioxide, and ammonia).
The ability to be temporarily placed to monitor an environment for short-term testing.
The ability to be set up for continuous, long-term data-recording.
Measures particles sized from 0.3 µm to 25 µm with a flow rate of 2.83 LPM (0.1 CFM).
The ability to display 6 size ranges simultaneously (0.3 µm, 0.5 µm, 1.0 µm, 2.5 µm, 5 µm, 10.0 µm are standard).
PM2.5, PM10 and TSP may also be concurrently displayed and logged.
The ability to be used as a portable monitor, or integrated into a building automation system via standard RS 232 or optional Wireless 802.11 b/g.
WolfSense PC Data Transfer and Reporting software.
For more information, visit http://www.wolfsense.com/index.html; or call 203-402-0477.