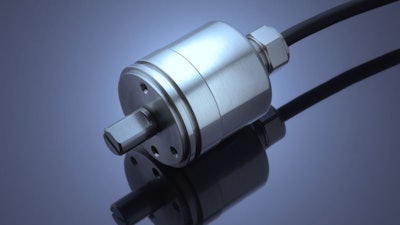 Novotechnik U.S. (Southborough, MA) announces the Vert-X 3700 Series of angle sensors housed in a sealed stainless steel housing. These sensors use a Hall effect, non-contact principle and are designed for rugged applications where high humidity, dampness, dust and/or vibrations are expected. Accuracy is to 0.35° and repeatability is to 0.05%. Other key specifications include:
Measurement range of up to 0 to 360°.

Sealing to IP 68.

Up to 14-bit resolution.

±0.1% linearity.
Some models are available with full redundancy. Vert-X 3700 Series can be ordered pre-programmed for a specific application's range, within 10° steps, to apply full resolution and accuracy over that electrical angle range. This option is in contrast to sensors offering only a 0 to 360° electrical range—a capability that can save cost over specifying tighter specs for a part specified over a wider electrical range.
www.novotechnik.com/vx37; 508-485-2244