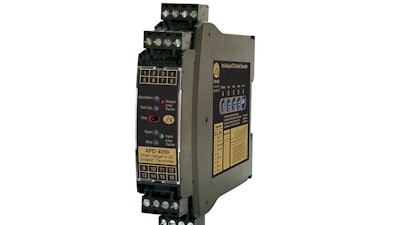 Absolute Process Instruments (Libertyville, IL) manufactures a wide variety of amplifiers, alarms, signal splitters, and conditioners for load cell, strain gauge, bridge or pressure sensor applications. Features include field configurable I/O ranges, adjustable excitation, 1 to 4 load cell capability, adjustable tare, provisions for calibration resistors, fast response times and a limited lifetime warranty. Additionally:
Simple and quick setup uses switches and potentiometers without the need for a computer.
Two Loop-Tracker LEDs vary in intensity as the process changes.
A test button provides a manually adjustable output independent of the input.
The test button and Loop-Trackers greatly aid during startup or troubleshooting.
Non-interactive zero and span adjustments allow fast and accurate calibration.
Optical I/O isolation eliminates ground loops.
Made in the USA.
www.api-usa.com; 800-942-0315