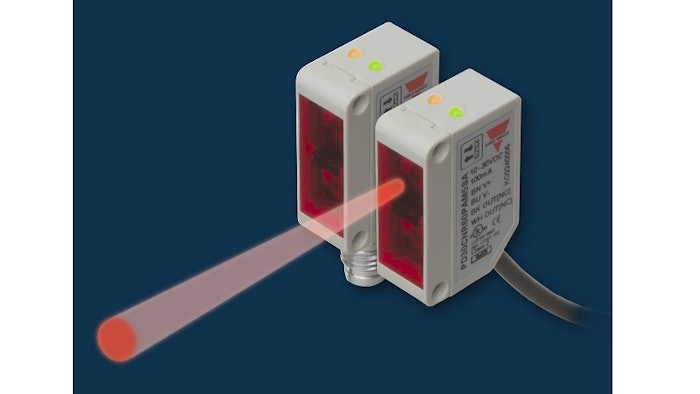 Carlo Gavazzi (Buffalo Grove, IL) has announced the new PD30CN Series Photoelectric Sensors with PointSpot Beam. The visible red light narrow beam makes detection more accurate and allows detection of smaller objects, if compared to standard sensors, but larger than those a laser can detect. When compared to laser sensors, the PointSpot beam is not only more economical, it's also safer, as there are no concerns with damaging people's vision and/or eyes. Features include:
A background suppression version as well as a polarized retro-reflective version, both with a narrow red light PointSpot beam.

A potentiometer on the back of the housing controlling the sensing distance. The adjustment is optimized for easy settings.
The ability for the high-end PointSpot beam to eliminate the halo light disturbance and increase detection reliability; they're also much more precise than standard LED technology.
The sensors are ideally suited for applications found on these types of equipment including packaging, palletizers, material handling, plastics and machine tools.
www.GavazziOnline.com; 847-465-6100