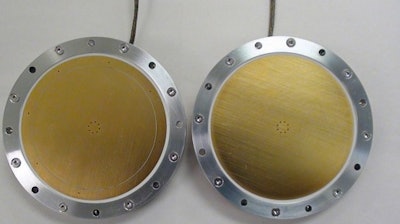 Queensgate
The NCG-1-AL-UHV position sensors from Queensgate (Cambridge, UK), based upon proprietary capacitive technology, have measurements that can span across 11,000 µm. Designed for precision positioning in the most uncompromising of environments, features include:
A sensing mechanism that uses gold-plated ceramic capacitive plates and exhibits a combination of rugged construction plus strong operational performance of 0.12 µm resolution.
The ability to maintain zero position when powered down, which makes them an optimized alternative or addition to interferometry for short distance measurements.
Low thermal changes at the point of measurement.
Radiation hard to 107 Gy.
A working temperature range from -200°C to +150°C.
A non-magnetic design.
Suitability in vacuum environments up to 1 × 10-10Torr.
NCG-1-AL-UHV position sensors are designed to be accompanied by the company's NS-2000/NS-2000SM single axis or NS-2304 multi-axis sensor controllers. Among the key applications for these devices are insertion redevises, X-ray monochromators, precision manufacturing, and other large scale science experiments.
For more information, visit www.nanopositioning.com.