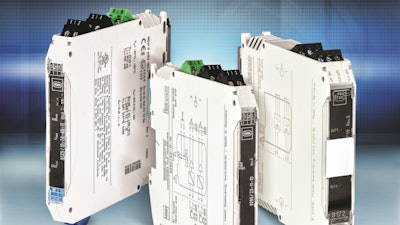 STAHL safety isolators, available from AutomationDirect (Cumming, GA), provide a compact, cost-effective and easy-to-connect way to provide intrinsic safety and galvanic separation between a control system and field devices in a hazardous location.
Digital and analog modules are available in single or dual-channel versions; a temperature module is also available. Digital and analog modules are rated for SIL applications, and analog modules are HART compatible.
The optional pac-BUS system can save cost and wiring time with modular accessories that allow modules to snap onto a DIN rail.
www.automationdirect.com/adc/overview/catalog/safety/intrinsically_safe_isolators