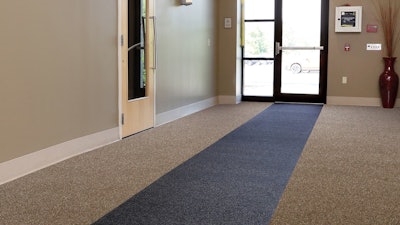 New Pig (Tipton, PA) has introduced the PIG Carpet Protection Floor Runner with Adhesive Backing. Designed to protect carpet from dirt, stains and wear in high traffic areas, the runner helps keep new carpet clean and extends the life of existing carpet.
ADA-compliant and low profile, the runner's adhesive backing keeps it in place on low pile, commercial carpeted surfaces. It will not shift, flip, bunch up or get caught in opening or closing doors and it eliminates trip hazards caused by traditional rubber-backed floor mats. And PIG Carpet Protection Floor Runners are easy to keep clean. Simply vacuum daily or deep clean with a carpet extractor and replace when needed. The runner is available in two hardworking versions: Floor Mat for an industrial look and Berber Carpet. Both options are easy to maintain and cut easily to create custom lengths and sizes and instantly improve the look of any facility.
Ideal applications include doorways between manufacturing and office spaces, long hallways and transition areas, building entrances, customer service counters, coffee stations and other high traffic or standing carpeted areas.
www.newpig.com; 800-HOT-HOGS