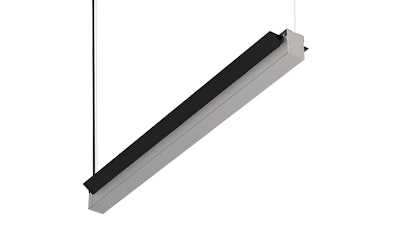 Hubbell Lighting (Greenville, SC) has launched a series of ultraviolet ("UVC") germicidal lighting solutions for the commercial lighting marketplace. SpectraClean 254 features a series of luminaires that leverage developments in the disciplines of lighting science and microbiology to combine white and ultraviolet 254 nm light to meet ambient and task lighting requirements while providing a continuous, unobtrusive disinfection option for commercial applications.
The upper air disinfection luminaires create a germicidal zone away from occupants and sensitive materials. Standard building climate control systems move airborne pathogens from the lower part of a room into this germicidal zone. The pathogen inactivation occurs through the cumulative exposure to UVC over time and each exposure cycle inactivates pathogens until the concentration in the room is effectively diluted.
SpectraClean 254 targets the inactivation of airborne viruses, such as SARS-CoV-2 (COVID-19) and influenza, with UVC lighting.
www.hubbell.com; 864-678-1000