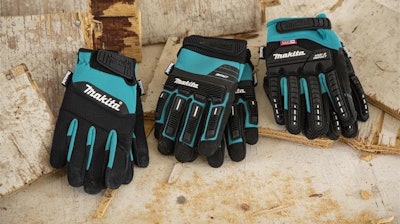 Makita U.S.A., Inc. (La Mirada, CA) is introducing High Performance Gloves with seven different functional styles, from general purpose to extreme impact protection and more. Makita High Performance gloves combine comfort, fit and dexterity with protection and durability features to meet the needs of the most demanding professional.
Makita High Performance Gloves offer function-specific features with intended uses ranging from box handling, landscaping and equipment operation to automotive, carpentry, construction and more. Glove packaging clearly communicates top features as well as ANSI and ISEA standard ratings where applicable including cut level, abrasion, and impact protection so users can select the right glove for the job.
In addition to performance and durability, Makita designed the gloves for comfort, fit, and dexterity. Design features include breathable materials, additional padding and reinforcement in high wear areas, stretch elastic cuffs, and hook-and-loop wrist closures. Five styles have touchscreen compatibility for use with a phone or tablet.
www.makitatools.com/gloves, 800-4-MAKITA