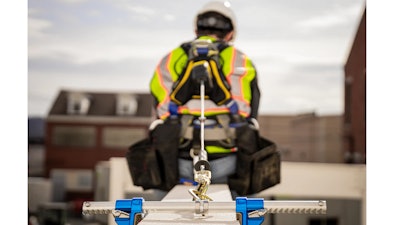 Werner (Itasca, IL) has announced a major expansion in its range of fall protection anchorage connectors. Through its acquisition of ClimbTech, Werner is now the exclusive provider of renowned anchoring solutions, including:
Removable Bolt Concrete Anchors - Also known as "lollipop" anchors, the expanded line of RB anchors includes more than 12 different products based on size and application, with multiple color options available for certain anchors.

Mega- Swivel Family - The new Mega-Swivel anchor family includes more than 20 variations based on material type and application, including concrete or steel. The fall protection anchor line includes multiple add-on options such as weldable pucks and backing plates that further increase their range of applications.

Beam Anchor Family - Werner now offers six different steel I-beam sliders, one vertical and fixed-beam clamp and a beam trolley.

Rescue Toggles, Slings, Precast and More - As a leader in jobsite safety and fall protection, Werner offers multiple products to assist in recovery and rescue.
www.wernerco.com/us/products/featured-products/fall-protection/products