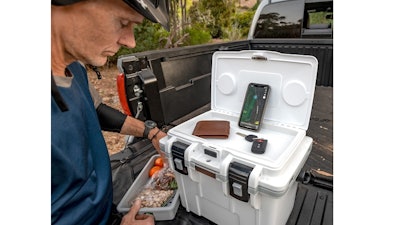 The new Pelican (Torrance, CA) 14QT Personal Cooler is the first on the market to separate wet and dry storage. It features a dry-box section in its lid to separate electronic devices and flat personal items from internal ice and the elements outside. It also boasts an easel slot for smart phones and tablets.
The Pelican 14QT personal cooler fits up to six standard beverage cans, as well as two Pelican Ice Packs. The freezer-grade gasket, PRESS & PULL latches and 1.5" thick polyurethane foam work together to offer up to 36 hours of ice retention. Additional features include:
A removable inner tray to keep non-perishables cool and dry

An integrated bottle opener with a magnet that catches bottle caps

A snap in flexible lid organizer

A wide grip handle and a walk-way cut out for easier, ergonomic transport.



www.pelican.com; 800-473-5422