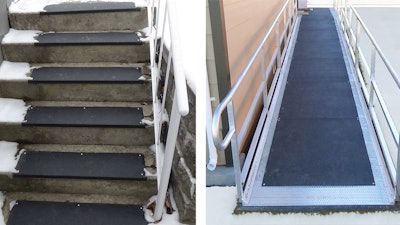 Safeguard Technology, Inc. (Streetsboro, OH) has expanded its line of Hi-Traction anti-slip covers to include new Heat-Traction heated step and walkway covers that melt ice and snow while adding traction to prevent slips-and-falls. Safeguard Heat-Traction Anti-Slip Covers keep steps and walkways safe and ice-free all winter. Install the rugged FRP (fiberglass) Covers over existing stairs and walks with mechanical fasteners to eliminate the need for shoveling and chemicals. Continuous snow removal starts with the flip of a switch. Specifically:
Cover concrete, wood, metal or bar grating. Choose from a variety of colors, grit sizes, and more.
Heat-Traction Covers can stand alone or connect together, up to 13 amps on a single Power Unit.
Plugged into a standard 120V outlet, they generate heat to melt snow at a rate of 2" (5 cm) per hour.
Hi-Traction Anti-Slip covers have a 5-year warranty. Heating elements have a 2-year warranty.
www.safeguard-technology.com; 800-989-1695