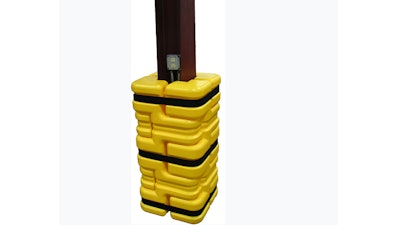 Building columns in industrial environments and warehouses face continual hits from forklifts, which can result in damage that leads to costly repairs and, sometimes, replacement. Columns need protection, and the Column Sentry FIT from Sentry Protection Products (Lakewood, OH) is a column protector engineered to address the challenge of variable column sizes. Four uniform, interlocking sides fit together like pieces of a puzzle to form a snug fit around columns, making the Column Sentry FIT adjust to multiple column sizes. No more guessing at sizes or finding the closest size. Specifically:
The Medium FIT adjust to fit columns 8" x 8" to 12" x 12" and the Small FIT adjusts to fit column 4" x4" to 8" x 8".
The sides of the FIT align to provide even, corner to corner protection. That means that regardless of the column size, the depth of the safety zone for the FIT stays the same.
Whether expanding or contracting the pieces of the FIT, each side continues to provide the same air cushioned protection all the way around the column.
The four-sided design also eliminates any stiff spots on the column protector and offers more coverage in the vulnerable corner areas.
The FIT, made with a proprietary polyethylene/vinyl mix, requires no tools for installation.
www.sentrypro.com; 216-228-3200