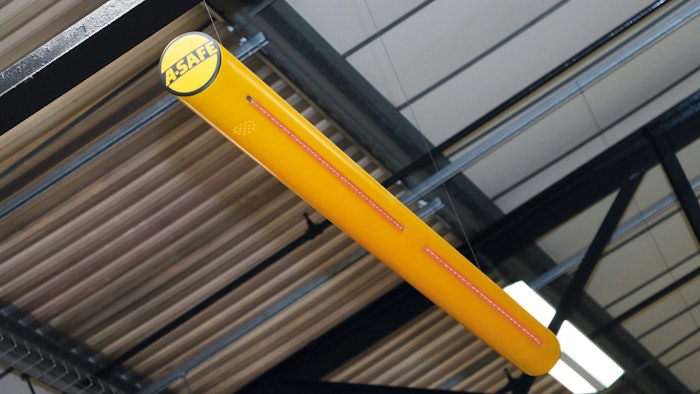 A-Safe Inc. (Baltimore, MD) has launched the Alarm Bar, a tubular product that actively responds to impact to protect overhead assets from moving vehicles. The Alarm Bar is made from A-Safe's Memaplex material, the company's patented blend of eight materials and rubber additives that, practically, absorbs impact without incurring damage. Specifically:
The bar is just over 6ft long (78 ¾ in) and has a diameter of 5⅛ in. These are standard dimensions, although bespoke systems are available if ordered in bulk.

The lightweight, 28-lb. Alarm Bar is easily installed, hung from two thin cables towards either end.

The product is self-powered, with 12-volt battery life providing more than two years of constant power.

Audio and visual alarms alert the operator of contact; two 102dB buzzers sound (the equivalent of a car horn 1m away) for 20 seconds after impact and light-emitting diodes (LEDs) display two red flashing indicator strips that span the length of the bar, lasting for 40 seconds.
www.asafe.com; 443-776-3472