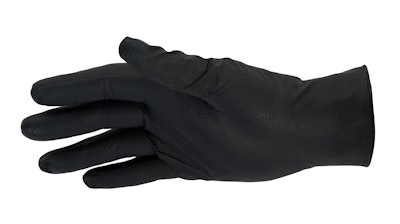 New KleenGuard Kraken Grip Nitrile Gloves from Kimberly-Clark Professional (Roswell, GA) allow workers to feel, grip and move freely, and don't require frequent changeouts. Inspired by a legendary sea creature with a powerful grasp, these fully textured gloves help boost safety and performance by delivering strength and durability along with a reliable wet or dry grip. Plus, they're recyclable through The RightCycle Program. Additional benefits include:
A tread-like pattern on fingers and palms to help channel substances away from areas where grip is most critical.
Powder-free moisture control and air circulation pockets for interior comfort.
A black exterior that hides dirt and grime, to provide a professional appearance.
Beaded cuffs to make donning easier and prevent roll-down.
In addition, the 6 mil gloves are ZMBT free (California Prop 65 compliant) and ambidextrous. They are ideal for fabrication and machine work, small and large parts handling, chemical splash protection and other uses.
www.KCProfessional.com/kleenguardpower; 800-241-3146