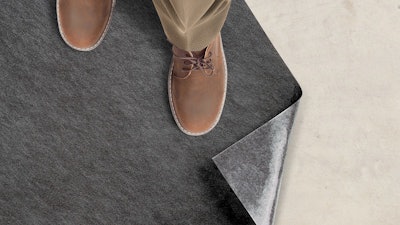 New Pig Corporation (Tipton, PA) now offers PIG Grippy Floor Mats, designed to keep entrances and walkways safer and significantly cut potential liability claims and costs. The world's first adhesive-backed absorbent mat, the Grippy Floor Mat is designed to eliminate trip hazards commonly associated with standard carpeted or rubber-backed floor mats. There's no shifting, bunching up or flipping over; Grippy stays flat and adheres tightly to most common commercial floor surfaces, but peels up easily, making for simple disposal and change-outs. Other features include:
A super tough construction; built to last up to 3 months before change outs.
NFSI certification as a high-traction surface. Grippy mats help reduce slip-and-fall claims by as much as 90% when used as part of a floor safety program.

An engineered fiber matrix, which provides an efficient absorbent top layer that wicks moisture across the mat and dries fast, eliminating puddles and slippery spots. A middle liquid-proof barrier layer prevents any liquid pass-thru, protecting floors and providing safe walking surfaces.

A thin, lightweight design, meaning it can cut easily to fit any space, anywhere.
Extremely durable, Grippy won't rip, shred or fray and is tough enough for heavy-duty walk-on and wheeled traffic. Available for industrial and commercial use in rolls of 100' or 50', popular pre-cut mat sizes, and in various widths and colors.
www.newpig.com; 800-HOT-HOGS