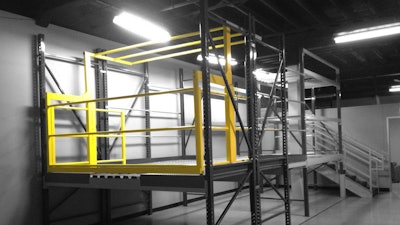 Benko Products, Inc. (Sheffield Village, OH) offers the Protect-O-Gate Pivot Gate that can be customized to accommodate various configurations. The pivot gate eliminates the potential for falls and other accidents associated with mezzanine loading areas. Counter-balanced and operator-friendly, the unit features easy access to the staging area, says the company. Features include:
The ability for unsafe conventional devices such as chains, lift-out gates and sliding gates to be bypassed, eliminating workers' exposure to potential falls and injuries.
A set-up where the gate cannot be bypassed. When the enclosure closest to the edge of the mezzanine is lifted to allow load delivery, the second enclosure is resting on the mezzanine, blocking personnel from potential falls.
Custom sizing, with optional increased load height available to 80". Any dimensions can be modified to meet the specs of your application.
www.benkoproducts.com; 440-934-2180