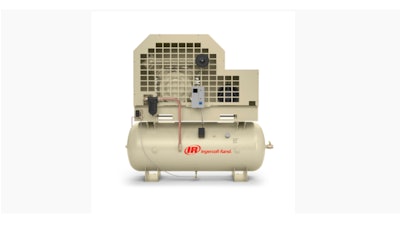 Ingersoll Rand (Davidson, NC) has introduced the 1-15 HP Oil-Less Reciprocating Air Compressor. The oil-less reciprocating compressor design has a completely dry crankcase to achieve its 100% oil-less specification. In lieu of oil for lubrication, sealed greased bearings yield up to 10,000 hours of oil-less operation.
For applications that require oil-free air, the oil-less reciprocating compressor offers an affordable, powerful solution. With the ability to reach a maximum pressure of up to 175 pounds per square inch, the compressor can meet high-pressure equipment requirements.
The compressor comes as a completely packaged unit with an attached tank that stores compressed air that has already been generated so it's immediately available when required. Tank storage is convenient and allows operators to avoid running the compressor for short, small bursts of air which could otherwise require a lot of energy. Stored air in the tank helps operators run the compressor less thus extending the life of the unit and saving energy.