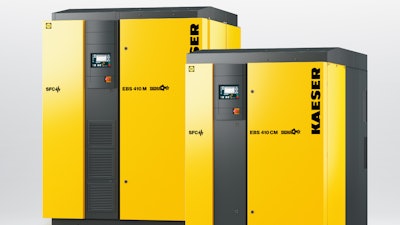 With a flow rate of 10 – 40 m³/min and pressure differentials from 0.3 to 1.1, as well as a selection of motors ranging from 22 to 75 kW, the innovative EBS 410 from Kaeser (Fredericksburg, VA) sets new standards in terms of energy efficiency, space-saving design and automation.
The SFC version is equipped with a frequency converter and a synchronous reluctance motor – a slip-free design that combines all the advantages of high efficiency permanent-magnet motors with those of robust, service-friendly asynchronous motors. Thanks to variable speed control, the flow rate can be adjusted as required and a control range of 1:4 is achieved, which allows exceptionally dynamic operation.
The STC version is now equipped with an energy-saving IE4 Super Premium Efficiency motor that reduces energy consumption and therefore costs, making the STC version more efficient than ever before.
www.kaeser.com; 877-788-1829