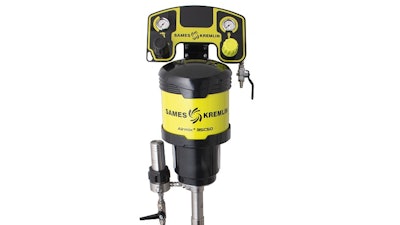 SAMES KREMLIN (Plymouth, MI) has announced the release of the new 15C50 & 35C50 Airmix Pump packages. The 15C50 compact Airmix paint pump is the ideal partner for your Airmix spray guns providing exceptional finish quality & high transfer efficiency. The 35C50 Airmix paint pump ensures constant and pulse-free delivery for superior, industrial finishing. Both pumps provide an even spray pattern & consistent film build for superior finish quality. Additional benefits include:
A 35C50 with the largest differential air motor on the market to meet the demand of using water-based coatings.

A redesigned C50, lower to meet the needs of using solvent-based coatings.

Easy priming and flushing.

A differential air motor that allows you to adjust the pump for maximum air pressure.

Balanced fluid section and patented MBA cartridge sealing system.