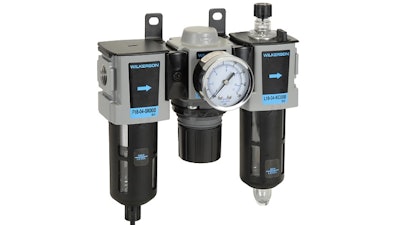 Parker Hannifin's Pneumatic Division – North America (Richland, MI) has announced a new design for the Wilkerson 08/18/28 Series of modular air preparation products. The Wilkerson Series is Parker's line of compressed air treatment products including filters, regulators, lubricators and accessories. Specifically:
The Revision B updates to these products refresh the design for robust, lightweight construction with a powder-coated finish in modern colors.
Revision B updates also expand additional accessory options and are backwards compatible with the original Revision A mounting. Today's broad line of Wilkerson products is the result of continuing product innovations and technology advancements which frequently become industry standards.
Along with the Revision B updates, Parker will discontinue the 1/8-inch ports for the 08 Product Series, however the 1/4-inch ports can be used for the same series and options.
www.parker.com/pneumatics; 269-629-5000