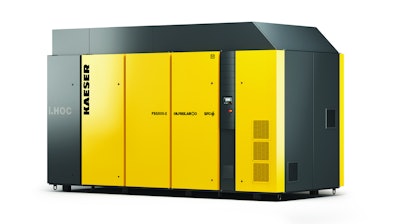 The redesigned FSG series oil-free rotary screw compressors from Kaeser (Fredericksburg, VA) are now available with i.HOC (integrated heat of compression) dryers and IE4 class drive motors. Available in both fixed speed and variable frequency drive from 250-450 hp, these reliable units feature a number of customizable options for exceptional energy efficiency and air quality. Benefits include the following:
Kaeser's i.HOC dryers use the heat generated by compression to regenerate desiccant, eliminating the need for any additional energy in the drying process — even when air demand varies or in challenging environments.
Full flow regeneration, along with an additional patented process, reliably provides pressure dewpoints to -22°F.
The i.HOC oil-free compressors also feature a built-in heat recovery option and are designed to be space efficient without sacrificing serviceability.
FSG units come standard with Sigma Control 2. This intelligent controller manages the entire drying process, while automatically adjusting to changes in air demand, maintaining consistent pressure dew points. Additionally, it offers unsurpassed compressor control and monitoring with enhanced communications capabilities for seamless integration into plant control/monitoring systems and the Internet of Things (IoT).
us.kaeser.com/oilfree; 877-417-3527