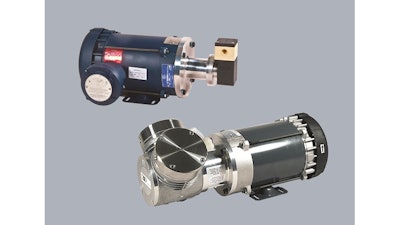 KNF (Trenton, NJ) offers a full line of gas and liquid diaphragm pumps with explosion-proof motors for use in chemical processing, petrochemical refining, mining and other safety-critical applications. These durable pumps are suited for NEC/CEC Class 1/Division 1/Groups C & D (gas and liquid) and Division 2/Groups A, B, C & D (liquid) locations. ATEX and other protection levels are also available. KNF NEC/CEC-compliant gas pumps and compressors achieve flow rates up to 300 L/min at pressures to 176 psi and vacuum down to 2 mbar. Liquid pumps for NEC/CEC-compliant applications provide flow rates to 6 L/min at pressures up to 88 psi and suction heights up to 10 ft. water. Specifically:
All KNF diaphragm pumps are contamination and maintenance-free.
KNF liquid pumps are self-priming, and can run dry without damage.
KNF pumps with explosion proof motors are UL/CSA and IP 54 approved and available with corrosion-resistant materials.
Optimized solutions are available, with alternative head configurations, materials, motors, and other options through engineer-to-engineer consultation.
www.knfusa.com/exproof; 609-890-8600