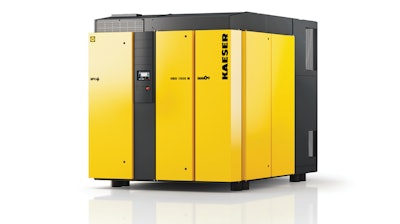 Kaeser Compressors (Fredericksburg, VA) has expanded its award-winning screw blower product line to include the new HBS packages. This series delivers 1412 to 5650 cfm at pressures up to 15 psig. With this expansion, Kaeser now offers its innovative screw blower technology to an even wider range of applications with up to 35% more efficiency than conventional packages. Kaeser screw blowers are designed for wastewater aeration and other low pressure applications where energy efficiency is critical. Additional features include:
The renowned Sigma Profile airend, zero-loss direct drive technology and Sigma Frequency Control (variable frequency drive) for superior energy efficiency across a wider range of flows than comparable screw and turbo blowers.
Kaeser's Sigma Control 2 and a full complement of sensors to provide full visibility into the blower's operational status, protect the machine, provide maintenance indicators and increase long-term reliability. Sigma Control 2 features broad communication capabilities including remote monitoring and email notifications for service and alarms.
Consistent with Kaeser's other screw blowers, the HBS blowers arrive on site completely assembled with inlet filters, silencers and full sound-proofing enclosure. This completely integrated design approach has time and again helped contractors and operators reduce installation time and errors that come with onsite integration.
www.us.kaeser.com; 877-417-3527