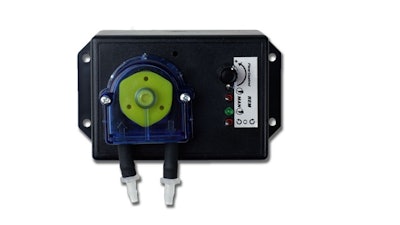 APT Instruments (Elkhorn, NE) offers a compact pump that provides variable-flow and exceptional life performance in a small attractive package. Enjoy the self-priming, run-dry, reversible, fluid-only-in-tubing benefits of a peristaltic pump in your fluid transfer or metering application. Features include:
Flow rates available up to 320 ml/min (5.07 gph) with a choice of motor speeds and tubing sizes.
A wide range of tubing material selections for sterile operation, general purpose transfer or chemical handling.
A splash-resistant housing that mounts easily on the wall or on the bench.
Manual and remote-control options.
www.aptinstruments.com; 877-324-5444