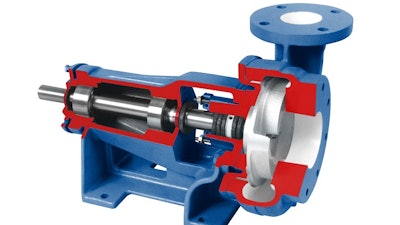 Vertiflo Pump (Cincinnati, OH) offers the Vertiflo 1400 Horizontal End Suction Pump for process, pollution control, spray systems, deionized water, wastewater, corrosive liquids and chemicals. Features include:
A heavy-duty cast iron frame design.
One frame that fits all pump sizes.
External impeller adjustments and semi-open impeller pump design.

All impellers have balance holes near the hub to reduce thrust load and pressure in the packing or seal area.
Wiping vanes that reduce axial loading and prevent dirt from entering the sealing area.
Availability in cast iron, 316 stainless steel fitted, all 316 stainless steel or CD4MCu.
www.vertiflopump.com; 513-530-0888