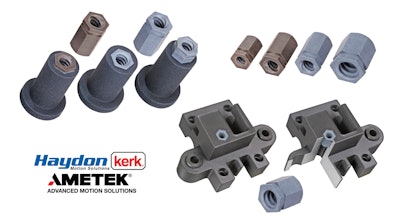 Haydon Kerk, a business unit of AMETEK Advanced Motion Solutions (Waterbury, CT), now offers 3DP, a 3-D-printed leadscrew-nut insert prototype service, as a way for machine builders to verify linear-motion design iterations quickly and more accurately.
Useful prototyping of a leadscrew-driven axis relies on accurate simulation of the leadscrew-nut assembly's tribological performance, as this directly impacts power consumption and anticipated life. Development engineers and original equipment manufacturers who are testing new machine builds with leadscrew-driven axes can now order the Haydon Kerk 3DP leadscrew-nut inserts in any quantity directly from www.haydonkerkpittman.com/3DP or by consulting with Haydon Kerk application specialists to identify 3DP products that satisfy anticipated thrust loads, linear speeds and required resolution.
The 3DP nuts support OEMs that use additive manufacturing for short lead times. These nuts are made of advanced materials that are engineered explicitly for production-part performance. That means the nuts transmit power in a way that's more representative of how standard volume parts will operate under load, which in turn boosts design-verification accuracy.
www.haydonkerkpittman.com/3DP
; 203-756-7441