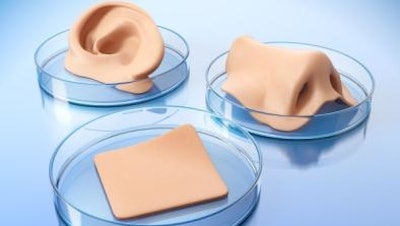 University researchers across the U.S. and abroad use Nordson EFD (East Providence, RI) dispensing solutions to print 3D replicas of human ears, noses, bone grafts and other human prosthetics.
Nordson EFD technology has become the go-to for many 3D printing applications due to the precise, repeatable dispensing outcomes it produces.
Several 3D resins can be extruded through EFD's PICO Pµlse jet valve with extreme precision in micron amounts. In addition, the 3-axis EV Series automated dispensing system accurately places beads of material within tight tolerances and achieves best-in-class repeatability of up to +/- 0.008 mm.
Industrial-grade disposable syringe barrels connected to Ultimus V fluid dispensers are mounted in tandem with the PICO Pµlse system to dispense a scaffolding of materials from which to carve out the human prosthetics required for research.
Here are a few more details about these types of applications:
Fluids Used
With the PICO Pµlse jet valve:
Graphene
UV-cure materials
3D resins
With the Ultimus V fluid dispenser:
Application Requirements
Beads of material, often about 300 µm wide, must be dispensed to create the scaffolding. Beads must be placed with 50 µm of space between them and must meet tight placement tolerance requirements. The beads cannot touch.
Previous Process
Researchers typically retrofit syringe barrel dispensers onto a 3-axis robot. Fluid dispensers can handle a range of fluid types and viscosities, which is why researchers often gravitate toward them first.
Previously, programming required a substantial amount of time due to software limitations of most 3-axis robots. Also, some fluid dispensers lack the precision needed to produce the best possible samples. And it can take several days to produce one acceptable sample due to lengthy cycle times.
Solution & Results
The solution employed was a PICO Pµlse jet valve and Toµch controller, Ultimus V fluid dispenser, EV Series automated dispensing system and Optimum dispensing components.
The EV Series 3-axis robot with specialized DispenseMotion software and an integrated pencil camera vision system simplifies dispense pattern programming. Paired with the Pµlse jet valve, which produces extremely accurate micro-deposits at high speeds, the system creates higher quality samples in a fraction of the time – hours, not days – that other systems take to produce far lower quality samples.
In addition, the Ultimus V fluid dispenser provides an innovative solution for printing materials that change viscosity over time. It dynamically adjusts dispensing pressure to maintain a constant dispense rate. It also solves a dilemma when the need to dispense particle-filled materials arise since jetting systems have restrictions for larger size particles.
Optimum dispensing components, including syringe barrels and dispense tips, complete the 3D printing technology system. With stringent quality standards, they're ideal for full-to-empty dispensing requirements. And they're designed to minimize material waste, which adds up to substantial savings when dispensing expensive, hard-to-procure fluids.
www.nordson.com; 401-431-7000