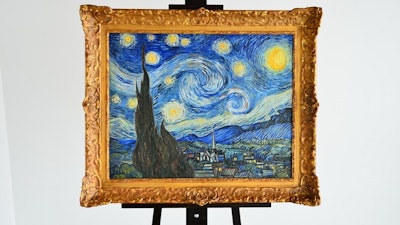 The iconic "Starry night" by Van Gogh reflects the best of the Dutch post-impressionist master's unique style. It is known that Van Gogh "sculpted" texture onto his canvas with a thick layer of gesso (a type of white binding mixture used as a primer) prior to applying the colors. This technique allowed him to achieve his rich, signature impasto without overusing more expensive paints.
Custom Prototypes Inc., a Toronto-based 3D printing company, has produced an exact replica of this supreme artwork using additive manufacturing technology.
A high-resolution image of the painting was scrupulously analyzed to create a CAD file of the "primed canvas," simulating the technique Van Gogh used with gesso. The STL topography file turned solid during the 3D printing process. The use of a large format, high definition stereolithography machine played a key role in meticulously reproducing the texture.
With these steps completed to reproduce the image, the creative finishing began. Under the expertise of a professional art restorer, Custom Prototypes turned to the ages-old technique of oil painting. Again undertaking a thorough analysis of the original piece, many hours were spent reproducing virtually every point and color on the surface. Final aging and a vernix coat were applied to the artwork to bring the painting to life.
To achieve the total effect, the "canvas" had to be protected by a period frame. An original 19th century European impressionist frame obtained from a local art dealer was 3D scanned and 3D printed hollow in another stereolithography process. The surface was finished using a combination of art paints, gold leaf and aging techniques.
The painting made its debut at this year's Additive Manufacturing User Group (AMUG) conference in St. Louis, Missouri, where it was awarded first place in the Advanced Finishing category of the AMUG Technical Competition.