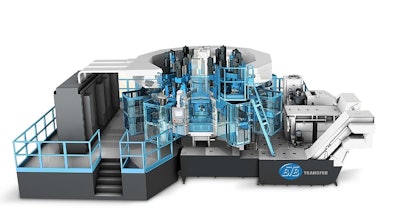 OSAI USA (Chicopee, MA) has announced that it now provides its OPENcontrol to BTB Transfer Systems, giving its customers the opportunity to retrofit and revamp existing transfer systems. This creates efficient and cost-effective productivity improvements at approximately 60% of old system cost, says the company, while also maintaining machining tolerance to within 0.002mm, a new platform that matches the existing machine and with future expandability.
OSAI's solution for improved cycle time was the OPEN-XL CNC with several bridge modules and a 17-inch touch-screen monitor. The OPENcontrol family is made with highly scalable CNCs, based on different hardware platforms. So the OPEN-XL selected by the customer had capacity to manage up to 24 machining processes with 12 simultaneously interpolated axes per process for a total number of 64 axes.
OSAI's Dual Core CPU of the OPEN-XL guarantees high computational power, especially for development of complex applications on multi-process machines like BTB Transfer systems having various axes. It is important to note that the versatile software architecture with dual O.S. (Windows CE and WES7) gives simultaneous execution on the same hardware, of both real-time CNC applications and generic Windows software.
www.osaicnc.com; 413-598-5200