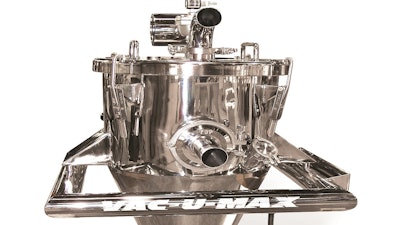 VAC-U-MAX (Belleville, NJ) offers their line of "Ready-to-Operate" processing and packaging solutions for powder and bulk-ingredient transfer to refill machines and packaging lines. Features include:
The ability to convey a wide range of bulk-ingredients, including powders, flakes, pellets, tablets, capsules, gel caps, food ingredients other materials like bottle caps, glue chips and corks.
Each system consists of five components: pick-up point, convey tubing, vacuum receiver, vacuum producer, and UL-Listed controls. They all work in unison to move bulk materials from plant receipt to packaging refill machine.
Minimal human interface, particularly where combustible dusts are a concern.
UL-listed control panels that can be configured to control a wide range of batch-weighing and packaging refill systems.
All VAC-U-MAX components function as a single system for continuous operation, with increased throughput.