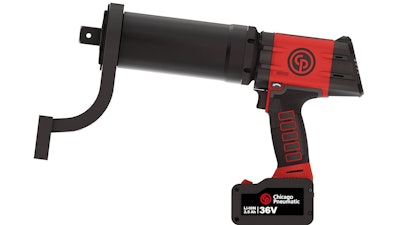 Chicago Pneumatic (Rock Hill, SC) has launched an innovative cordless connected torque wrench – the CP86 series – which delivers exceptional mobility and precision for general bolting applications. The connected tool is the first on the market compatible with an app to provide instant performance feedback while on the job, and better control quality processes in the field, resulting in an increase of productivity.
The new range comprises four models providing torque levels from 300 Nm (170 ft.lb) to 8100 Nm (5975 ft/lb) and is suitable for bolting applications in the energy, mining, construction and railway industries. Each model is also available in three variations depending on the requirements of the application. The company offers the standalone CP86 and two connected versions (C & CQ), that have Bluetooth connections to the new app, CPLinQ. This dedicated app provides many levels of performance, tool maintenance status and tightening reports.
The CP86 torque wrench provides a constant tightening speed of up to 10 rpm for excellent control and delivers high precision with +/- 4% accuracy (based on hard joint 15 degrees at nominal torque). This high accuracy ensures that bolts are tightened correctly, thus preventing over- or under-tightening and reduces the associated risks of bolt joint failure.