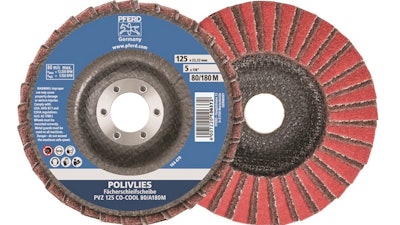 PFERD (Milwaukee, WI) has introduced the POLIVLIES ceramic oxide CO-COOL flap disc, the newest addition to its line of POLIVLIES non-woven products. Premium CO-COOL abrasive material provides consistently high grinding performance, with special top-sizing for reduced loading and cooler grinding on poor heat-conducting materials. The innovative interleaved flap construction alternates between aggressive coated abrasive and nonwoven material, allowing for grinding followed by surface conditioning in a single operation. These discs are recommended for work on large surfaces made from stainless steel (INOX) but can be used on nearly all materials and deliver increased economic efficiency due to high abrasive performance and long service life. Features include:
High flexibility, resulting in a consistently high surface quality.
Compatibility with angle grinders, including cordless angle grinders.
Availability in 4-1/2 and 5 in. diameters, in both plain arbor hole and threaded hub configurations with a maximum speed of rpm 13,300. They are available in coarse-100, medium-180 and fine-240 grit sizes. It is recommended that the discs be used at a peripheral speed of 6,000-6,900 sfpm.
PFERD also provides POLIVLIES flap discs with Aluminum oxide A abrasive. These discs excel at universal grinding primarily in industry and the professional trades. They also come in coarse, medium and fine grades with a recommended peripheral speed of 6,000 – 6,900 sfpm.
www.pferdusa.com; 800-342-9015