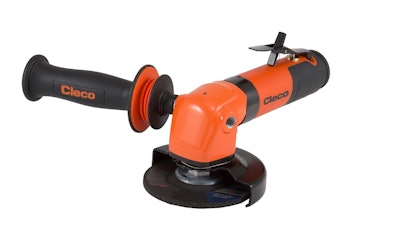 Cleco, a registered trademark of Apex Brands, Inc. (Sparks, MD), introduces its new line of pneumatic Right Angle Grinders, featuring a powerful 1.7 hp motor for increased power and productivity, backed with Cleco's unsurpassed features, quality and durability. These grinders include the following features:
A high-performance 1.7 hp motor, delivering maximum power.
A design that fits all Type 27, Type 27 threaded hub and Type 1 abrasive discs.
Quieter operation with rear exhaust overhose standard.
An ergonomic, anti-vibration handle for increased comfort and less operator fatigue.
A spindle lock for quick and easy abrasive changes.
A dual-layer, high-impact composite housing for extreme durability.
Versatile 270˚ adjustable guard for easy access to tight spaces.
www.ClecoGrinders.com; 800-845-5629