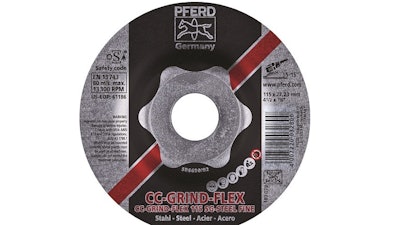 PFERD (Milwaukee, WI) has introduced its CC-GRIND-FLEX, the next generation of semi-flexible grinding discs. This high-performance disc blends weld seams on large surfaces without leaving dents or bumps typical of a rough grinding wheel or fiber disc. When using the CC-GRIND-FLEX, an absolutely flat surface can be achieved. According to the company, this complete smoothing of butt welds – without dents or bumps – is made possible by an innovative design that integrates a layered fiberglass backer with a high-performance coated abrasive. The geometry of the cooling slits ensures high air flow. This reduces the thermal load on the grinding discs and workpiece. Benefits include:
Availability in 4-1/2 in. and 5 in. dia. with 7/8 in. bore. Coarse grit with its highly aggressive abrasive for increased stock removal or a fine grit to produce a superior finish are also available.
Up to 50% less noise and vibration during use when compared to a conventional grinding disc, with less risk of gouging. It is designed for weld blending on both flat and curved surfaces.
For use on steel, the new CC-GRIND®-FLEX is ideally suited for automotive and trailer manufacturing to blend butt welds in fenders; as well as in power generation for water chute production. Other applications include; general metal fabrication (machine guards, security gates, etc.); maintenance and repair operations; as well as other butt-weld grinding applications.
www.pferdusa.com; 800-342-9015