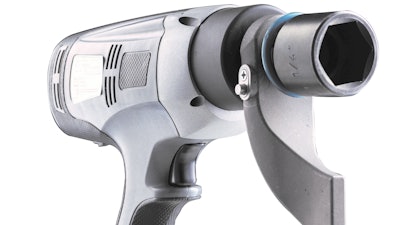 HYTORC
HYTORC (Mahwah, NJ) has unveiled the company's latest addition to the LION Gun series, the LION-.7. The LION Gun is a lithium ion battery-powered torque gun, which is lightweight and portable, with no attachments to hoses, cords or compressors. The industrial strength, non-impacting gear box delivers adjustable torque faster, safer and more reliably than manual clicker wrenches, impact wrenches and other tightening tools. Additional features include:
No loud noise or high vibrations.
A ¾-inch drive.
A minimum torque of 150 foot-pounds and a maximum of 700 foot-pounds.
Built-in data recording.
The ability to set the desired torque output on the display and pull the trigger to get precise, repeatable torque.
The ability to program the rotation angle for angle bolting.
Automatic release for fast movement from nut to nut.
The ability to be connected to a PC or tablet to export the recorded data into an Excel-friendly format for reporting, storage or additional analysis.
A weight of 8 pounds (with battery).
Suitable for bolts 1/2-inch to 1-1/8-inch in diameter.
For more information, visit www.hytorc.com/liongun.