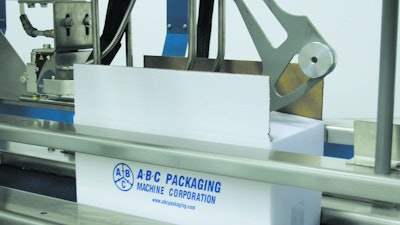 A-B-C Packaging Machine Corp (Tarpon Springs, FL) offers their 436 case sealer for snack manufacturers who ship products in a variety of packages, including flexible bags, multipacks, cartons and rigid containers. Features include:
Interchangeable tape and adhesive sealing on one machine.

A modular design that allows for switching from one sealing method to another without downtime.
Independent sealing modules for adhesive and tape sealing that are designed for quick changeover with "drop in" accessibility, allowing maintenance personnel to switch from one sealing method to another in under 10 minutes.
A case range from 8" L x 6" W x 4" H to 24" L x 17" W x 17" H.
Speeds of up to 50 cases/minute.