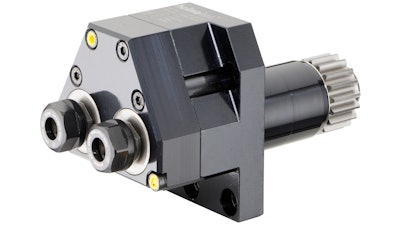 Heimatec
Platinum Tooling Technologies (Booth 432245), the exclusive importer of Heimatec live tools, angle heads, and multi-spindle heads, has announced an extended product offering to the Citizen tool program.
In addition to the standard live and static tools, they will offer 1:4 speed increasers for the most current Citizen machine models. Designed to optimize the machine's parameters, these precision tools are efficient and cost effective.
Originally developed for the manufacture of precision parts in the watch industry, Swiss-type CNC automatic lathes are now widely used throughout the industry to produce automotive components, screws and pins for the medical industry, and precision parts for electrical engineering.
Platinum Tooling and Heimatec's goal during the development of this line was to construct a series of tools that would offer the greatest possible processing quality and longest service life, while additionally enhancing the machine's capabilities with the use of speed increasers. To achieve this, Heimatec incorporates the highest quality bearings, ground gear components, spindles, and housings to produce superior tools with maximum rigidity.