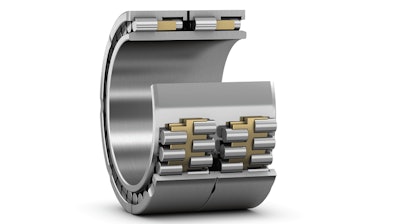 SKF (Lansdale, PA) has extended its Explorer range with a four-row cylindrical roller bearing (4rCRB), aimed at demanding applications in long product rolling mills. Specifically:
The new SKF Explorer 4rCRB design offers up to 50% longer service life than the previous generation 4rCRB.


The new 4rCRB bearing helps overcome challenges caused by contamination, high loads, varying speeds and reversing torques, which can cause premature bearing failure, production delays and excess scrap. At the same time, improved robustness against contamination, and the ability to build up a better lubrication film, leads to higher reliability.

Its introduction makes SKF a single source of supply for multi-row tapered, cylindrical and spherical roller bearings for long rolling mill customers.

Explorer bearings have properties that include reduced friction, increased hardness and improved steel quality that gives them the ability to withstand heavier radial and axial loads and allows them to run cooler, smoother and longer than standard bearings.