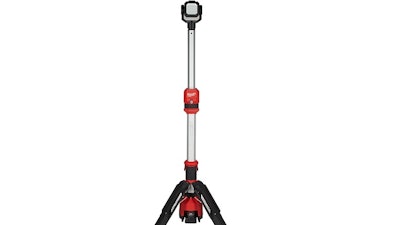 Milwaukee Tool (Milwaukee, WI) has expanded its Lighting Solutions with the introduction of the M12 ROCKET Dual Power Tower Light. The first stand light on the M12 system, the M12 ROCKET delivers 1,400 lumens of output in a more compact size and lightweight design, allowing it to be easily carried and set up in under 5 seconds. The light is ideal for users currently in the M12 System, service contractors and other professional users who desire a portable solution that can perform in smaller spaces. Features include:
The ability for the rotating light head to be extended over 5' 8" and rotated 210° vertically, or pivoted 270° horizontally to light overhead work or minimize shadows when casting light downward.
Collapsibility to a length of 2' 7", making the light nearly half the size and weight of Milwaukee's leading M18 ROCKET Tower Lights, increasing portability and efficiency when going from project to project.
Dual power functionality, by giving users the ability to operate it for up to 10 hours on one M12 XC 6.0 pack, or off AC power through a standard extension cord.
TRUEVIEW Technology, an advanced LED technology and optical design that delivers a consistent beam, optimized color temperature, and true representation of colors and detail leading to a more productive work area.
A durable, high-impact polycarbonate lens that delivers superior impact durability.
www.milwaukeetool.com; 800-SAWDUST