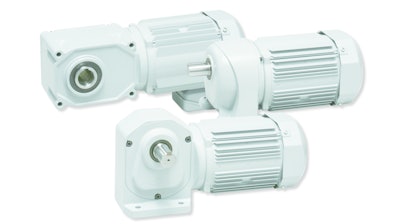 Brother Gearmotors (Bridgewater, NJ) introduces IPMax, a line of lightweight, compact interior permanent magnet (IPM) gearmotors with a wide synchronous speed range. Additional features include:
Magnets embedded within the rotor, as opposed to on the surface.

No copper losses are experienced in the rotor, and considerably less copper losses occur in stator winding.

The ability to operate fanless up to 1 hp, and do not require encoders for sensor control. When stopped, a servo lock feature holds the motor in position.
According to the company, they are 23 percent smaller than comparable ie3 motors, and run 24 percent cooler.
Programmable I/O terminals can be changed according to external circuits or applications.
An ingress protection rating of 65 (IP65).