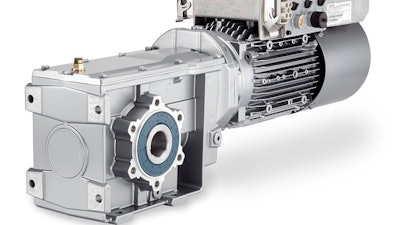 Siemens Industry
Siemens Industry (Madison, WI) introduces the Sinamics G110M (view video), a motor-integrated drive for Simogear gear motors, offering flexible control, integrated safety, simple installation, and a space-saving design. Features include: 
Up to IP66 protection.
Applicability in material handling, including conveyors, warehousing, logistics, plus numerous industrial applications in the automotive, appliance and test stand industries. 
The ability for designers and system builders to integrate gear motors into a variety of control architectures.
Plug connections for onboard I/O.
Optional power connectors. 
A pre-configured system.
Simple yet comprehensive onboard diagnostic features. 
Options such as internal braking resistors and motor brakes and integrated features such as "Quick Stop" and the limit switch function make this system ideal for conveyor applications.
Integral USS/Modbus RTU, Profibus and Profinet / EtherNet/IP communication profiles.
Integrated safety functions, such as "Safe Torque Off" (STO), which can be activated via a fail-safe input or via Profisafe, without needing additional safety monitoring components.
For more information, visit http://www.industry.usa.siemens.com/.