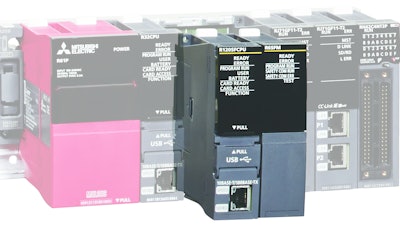 Mitsubishi Electric Automation has unveiled their iQ-R Series, which incorporates sequence, motion, safety, process and C language control into one platform. Features include:
An integrated design that allows machines or production lines to consolidate control in one rack. The system can have up to 4 CPUs per rack.
98 ns execution speed.
GX Works3 programming software with built-in functions and configuration screens.
CC-Link IE field network with deterministic performance over industrial Ethernet.
A built-in SD memory card database.
Integrates with other automation products such as the GOT2000 Series HMI and MR-J4 Series amplifiers.
More information is available at https://us.mitsubishielectric.com/fa/en